How To Save Money On Your Electric Bill This Summer!
Neighborly is here to help you beat the heat!
We spoke with the experts at Parish Cooling & Heating to find out a few ways to save money on your energy bill this summer as well as a few things that you need to look for in your HVAC system if you are purchasing a new home!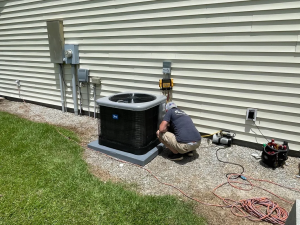 Invest in a good air conditioner
One of the most important things that you can do to make your home more energy efficient during the summer months is investing in an energy efficient air conditioning unit. Look for the ENERGY STAR® and EnergyGuide labels when selecting a new unit or you can speak with a professional. Make sure that you choose an air conditioner that is the right size for your home and that has a high Energy Efficiency Ratio (EER). Sometimes a bigger unit isn't always better! 
Make sure that your attic is properly insulated
Generally in older homes, if the rafters are exposed, you may want to have an insulation expert see if you need to replace your insulation. In new homes, you want to them to check that your HVAC ducts are properly insulated.
Keep your windows and doors properly insulated
Proper insulation will help to keep the cool air in and the hot air out. Seal any cracks or gaps around windows and doors with weatherstripping or caulk. 
Replace your filters regularly
Dirty filters will make your AC work harder, using more energy and costing you more money! Make sure to replace your filters every month to keep your system running smoothly.
Might be time to upgrade
If your AC unit is over 10 years old, it may be time for an upgrade to a newer, more energy efficient model!
If you are buying a home, here are a few things to look out for:
Grass, weeds, or mud around your AC unit could be a sign that there's a disruption in airflow which could significantly decrease your unit's efficiency.
On the HVAC side of things, we recommend getting an HVAC company to inspect the AC unit. Your AC unit and roof are two of the biggest investments in a home!
"General inspectors don't know air flow like the experts! We recommend having a licensed HVAC contractor check that the refrigerate levels, coils, and ducts are connected and pests didn't chew threw them," says Johnny Beasley, co-owner of Parish Cooling and Heating, "They will also be able to tell if the HVAC the appropriate size for the house."
Beat the heat this summer and follow these tips to make your home more energy efficient and save money! For more information or to schedule a free estimate check out https://parishhvac.com/ or call 337-591-5929
Neighborly and Parish Cooling and Heating would like to welcome you to the neighborhood!