Increasing USDA Loan Limits!
USDA Loan Limits Are Increasing
With increasing home loans from the USDA (United States department of agriculture), Louisiana residents have an outstanding opportunity to become homeowners without breaking the bank. USDA loans require no down payment or qualifying assets and there's no maximum loan amount, so you may be closer to a new home than you thought. And Loan Limits Have Increased!
Huge Update! 
Prior to this update. The income was $91,000 for a family of one to four. That has been increased to $103,500. This is a really big increase, and it is going to help more buyers and more first-time home buyers get into more houses, which is going to help families. For houses of five or more people, the loan limits are increasing from $121,300 to $136,600, which is also a huge increase there that is going to help more families get into more homes, which is what we're about here at Neighborly Home Lending. We are super excited about this increase, so let us know if we can help you, or if you have any questions regarding USDA loans!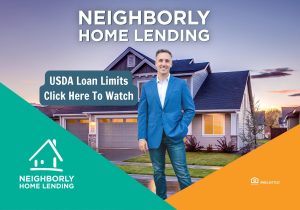 NMLS #1677122
Lafayette, LA
218 Rue Beauregard, Ste. i
Lafayette, La 70508
____
New Orleans, LA
1229 St Thomas St., New Orleans, LA 70130
Email List
Subscribe here to our Monthly Newsletter: The Newsy Neighbor