Introducing Jade, Our New Loan Processor!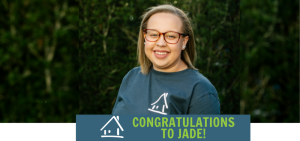 We are excited to introduce you to our new processor, Jade.
You may already know Jade as our Administrative Coordinator, but she has been promoted to a Processor here at Neighborly. She is hardworking and has indeed been an asset in this new role; Helping clients get to the closing table faster than before. If you have ever called Neighborly Home Lending, then you already know Jade, as she is the lovely voice on the other side of the phone. She will be taking her Loan Originator Exam in august, so be on the lookout, as we may have a new Loan Officer soon. Feel free to reach out to her with any questions regarding your loan! We are confident in her ability to work with clients and you should be too!
Contact Jade via Phone: (337) 806-9940 or by email at jade@neighborlyhl.com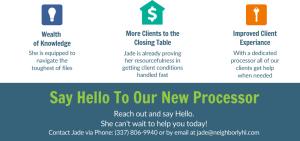 NMLS #1677122
Lafayette, LA
218 Rue Beauregard, Ste. i
Lafayette, La 70508
____
New Orleans, LA
1229 St Thomas St., New Orleans, LA 70130
Email List
Subscribe here to our Monthly Newsletter: The Newsy Neighbor