Market-Rate Update as of 6/13/2022
Market-Rate Update as of 6/13/2022:
Here's an update of what's going on in the financial markets as it relates to mortgages because there is a lot going on. As of Friday, the 10-year treasury moved up about 11 to 13 basis points as of June 13th it moved up about 20 basis points. If you're wondering what that means you've come to the right place. That means that interest rates are going up. So last week they may have been at a 5.25% rate or 5.5% rate. As of this week, they are no longer there, we are looking at rates that are close to 6%, if not 6% on a conventional 30-year fixed-rate mortgage. This is due to a couple of different factors the biggest one is what's going to happen with the fed this week as they announced another move to increase short-term interest rates the federal funds' rates.
So prior to last week, the rumbling was that they were going to move interest rates up about 50 basis points, and now we are thinking that they are going to be escalated to 75 basis points due to the last inflation reading, which came in a little hotter than expected. Inflation once again is hitting hard and moving interest rates higher. So more than ever, it is the time to be shopping your mortgage rate, and the best place to do so is with your local mortgage broker which neighborly is. If you have any questions or you're under contract, and you're looking for a better rate, call us it doesn't hurt you and it doesn't cost anything to get a second opinion, so get another opinion on your mortgage rate, and let us know if we can help.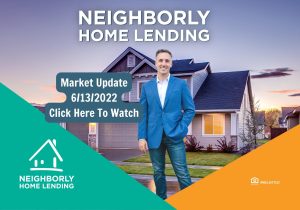 NMLS #1677122
Lafayette, LA
218 Rue Beauregard, Ste. i
Lafayette, La 70508
____
New Orleans, LA
1229 St Thomas St., New Orleans, LA 70130
Email List
Subscribe here to our Monthly Newsletter: The Newsy Neighbor